Diversity, Equity and Inclusion
At Health Care Service Corporation (HCSC) we support an environment where all employees feel valued, empowered and recognized for their unique talents, perspectives and differences. Our Center for Diversity, Equity and Inclusion (CDEI) embeds a commitment to diversity and inclusion throughout all areas of the company, from how we hire, manage and interact with employees, to how we serve our customers and provide for our communities.
We strive to maintain an inclusive work environment where all employees, including those from the disability community, LGBTQ community and from any background, culture and gender, experience equity. Employees know when they come to work each day they will be treated fairly and with the respect they deserve. We see our organization as one united by our differences and empowered by the strengths each employee brings to the table.
Diversity and Inclusion Annual Profile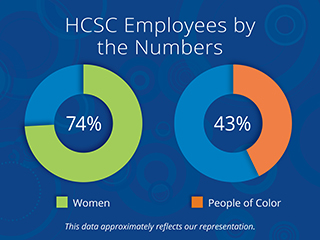 To learn more about HCSC's commitment to diversity and inclusion (D&I) and the impact a diverse and inclusive workforce has on our enterprise, we are pleased to provide a window into our culture through the D&I Annual Profile. The annual profile highlights our award-winning programs and initiatives, while providing transparency into the diversity of our workforce and demonstrating alignment with our business priorities.
Read the 2021 Diversity and Inclusion Annual Profile
Read the 2020 Diversity and Inclusion Annual Profile
Diversity and Inclusion in Action
Employee Groups Bring Value to HCSC
HCSC's strong network of employee groups is a meaningful way for our employees to remain engaged in our D&I strategy. Our Business Resource Groups and Employee Networks offer a way for employees to feel connected, respected, and valued while cultivating inclusion at HCSC.
Read more about Employee Groups at HCSC
Inspiring STEAM Careers & Education
Science, technology, engineering, arts and mathematics (STEAM) education and careers are vital aspects of our community and our business. At HCSC, we focus on leveraging STEAM programs and partnerships across the enterprise that are valuable and effective.
Awards and Recognition
HCSC is very proud to have received external recognition for efforts related to diversity and inclusion. These awards and recognitions further increase our diversity footprint in the marketplace.
Supplier Diversity
HCSC's Corporate Supplier Diversity (CSD) department maximizes procurement opportunities for minority-owned, women-owned and other diverse companies. One of the primary goals of the CSD program is to promote diversity in the supply chain, thereby helping to create a positive economic impact in the very communities HCSC serves.