Ellen Devereux was eager to meet other young professionals when she accepted a job at Health Care Service Corporation (HCSC) after graduating from the University of Tulsa eight years ago.
That's why she helped establish the Oklahoma chapter of EMERGE, a business resource group (BRG) at HCSC that aims to celebrate and benefit from unique generational differences in the company's workforce. Understanding these perspectives, values and preferences helps HCSC meet diverse needs for members and employer customers.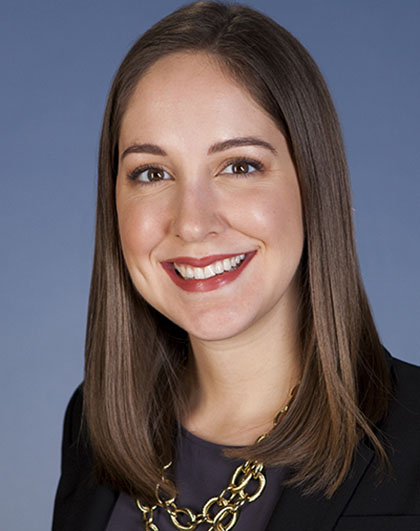 "I didn't have a lot of peers when I joined HCSC fresh out of college," says Devereux, who works as a communications consultant at the company and also chairs Oklahoma's EMERGE chapter. "I think that's what made me gravitate toward EMERGE."
The group helps members enhance their professional skills through educational seminars, mentorship programs and opportunities to volunteer with community partners.
"EMERGE has really evolved in a short time," Devereux says. "After a few years of catering to a millennial perspective, we realized that there were more opportunities to connect with other generations — especially as Gen Z entered the workforce. So we rebranded from a millennial focus to a multigenerational focus."
When HCSC introduced new digital collaboration tools like Yammer and Jabber, Oklahoma's EMERGE chapter hosted a series of sessions to show employees how to use them effectively and encourage multigenerational participation on the platforms.
These technologies became even more important last year when most HCSC employees transitioned temporarily to remote work during the COVID-19 crisis, reducing opportunities to connect and socialize in person. Oklahoma's EMERGE chapter responded by launching "Yammer Best Practices," a more comprehensive Yammer tutorial aimed at increasing employee engagement on the platform.
"We've been trying to take Yammer to the next level since we started working from home," Devereux says. "In the office you're able to have those water cooler conversations and connect with people in person, and we haven't been able to do that because of the pandemic. We wanted to make sure that we're still helping people to connect and share updates about themselves."
EMERGE is also working with a community partner, Mental Health Association Oklahoma (MHAOK), to promote emotional and social wellness at HCSC and beyond. During a virtual event last year, MHAOK staff shared tips and tricks for maintaining mental health during the pandemic and offered resources for employees struggling with anxiety, stress or other issues. EMERGE then organized a donation drive to support MHAOK and its work in local communities.
"Behavioral health conditions like depression and anxiety impact people of all generations, and those conditions have only been compounded by the isolation and stress of the pandemic, Devereux says. "EMERGE's partnership with Mental Health Association Oklahoma signals our support of the work they do to promote mental health, end homelessness and prevent suicide in Oklahoma."
As a millennial, Devereux says it was important for her to join a company that values input from a wide range of perspectives.
"I feel like I've grown up at HCSC," she says. "Through the EMERGE BRG, I've been given a voice at our company from a young age, and I'm proud to help highlight the unique differences that each generation brings to the workplace."