Cafe employees at Health Care Service Corporation's (HCSC) Chicago headquarters are reducing landfill waste by preventing tons of leftover food from going in the trash.
Over the past few years, they've helped separate organic waste from other garbage so it can be composted into mineral-rich soil used in gardens and urban agriculture. Additionally, uneaten food from meals and catered events has been set aside to feed underserved Chicagoans and residents without housing.
Both efforts illustrate how HCSC and its on-site food service provider FLIK Hospitality are advancing environmental sustainability and supporting local communities, says Danielle Cushing, wellness and sustainability manager at FLIK.
"Any and every food service operation is positioned to make an economic and social impact, and we take that responsibility seriously," she says.
The composting program is a collaboration between HCSC, FLIK and Waste Management, the building's trash and recycling hauler. Bins of organic waste are emptied into a compactor on the building's ground floor, which accelerates the decomposition process and helps convert the waste to soil. Waste Management then transports the compactor's contents to a site outside the city, where it matures into "garden-ready" compost and is available to the public.
"Food waste is a huge problem for many reasons," Cushing says. "Environmentally, it's a leading cause of greenhouse gas emissions. Composting is a great way to reduce our carbon footprint and give back to the surrounding community."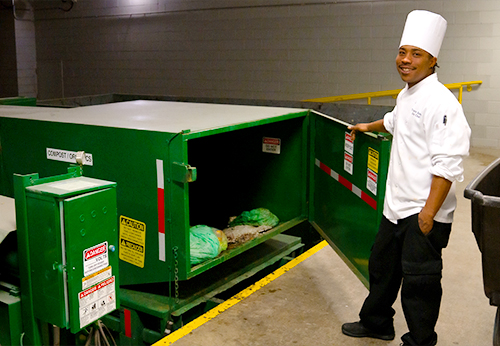 The program started with cafe workers learning to identify compostable items and sorting them into designated bins during food prep and cleanup. In July 2021, FLIK placed new receptacles around the cafe to increase recycling and composting efforts and encourage guests to sort their own waste.
"We used to have one bin where guests would throw away food and other garbage," Cushing says. "Now we have clearly marked receptacles for landfill, compost and recycling, as well as compostable napkins and cutlery."
The changes are already paying off. Last year, the cafe composted more than 12.3 tons of organic material and helped divert 76 tons of waste from landfill. FLIK expects to surpass those totals in 2022 as more HCSC employees return to headquarters and dine at the cafe.
"Waste Management hasn't rejected any composting loads from the cafe due to excessive contamination," Cushing says. "That tells us guests are taking the food sorting process seriously."
FLIK is also donating prepared meals to hungry Chicagoans under a separate partnership with Chicago Bridge Project, a nonprofit food rescue. In 2021, more than 6,875 pounds of food from HCSC's cafe and catering operation were distributed to shelters, soup kitchens and other Chicago locations.
"We are lucky to collaborate with Chicago Bridge Project to donate meals and raw ingredients that would otherwise end up in a compost bin," Cushing says. "The benefits of food donations are twofold: not only do we divert food waste from the landfill, but we help put food on the table for families in need in our community."