For Jack Walser, a big part of LGBTQ+ Pride Month is taking stock of the progress the community has made in creating a safe, welcoming and supportive culture in American workplaces.  
"Sometimes we spend more time at work than we do asleep," says Walser, executive director of enterprise programs and projects at Health Care Service Corporation (HCSC). "So if you're not able to come to work and be your authentic self, then there's a real problem that needs to be solved. We need to create safe spaces at home and at work so that people can be their best selves."
That's what the Pride Alliance business resource group (BRG) at HCSC strives to do. The BRG is a group for the LGBTQ+ community and their allies at HCSC. Walser serves as the state chair of the Illinois chapter of the BRG.
"The bottom line is that we're all going to work more productively if we don't have to worry about social pressure," he says.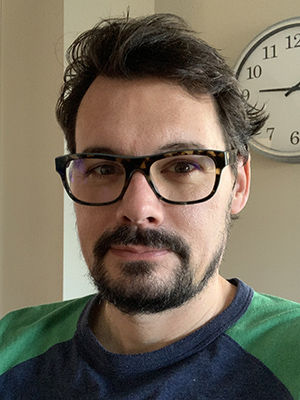 The group provides advocacy and awareness, hosts educational seminars, and enables networking, mentoring and community outreach opportunities. It has an open membership policy to encourage broad participation among LGBTQ+ members and allies alike.
"It's a great cross-section of the company. The best part is that you don't have to be a member of the LGBTQ+ community to be part of it — it's a familial and congenial atmosphere. All are welcome in our space," Walser says.
But the group's reach extends beyond HCSC employees to also positively impact the lives of HCSC's health plan members.
People who are transgender, for instance, may have unique health care needs and even face discrimination affecting their access to health care.
One of HCSC's large employer customers wanted to focus on improving the health care experience for all of its LGBTQ+ employees, especially those identifying as transgender and gender nonbinary. The Pride Alliance BRG helped by collaborating to train health advocates dedicated to that employer group. The training covered how to best engage with health plan members who identify as transgender or nonbinary and guide them so they can get the care they need.
And that training paid off. One health plan member who is transgender said they had faced difficulties in the past when trying to access health care and had struggled with suicidal thoughts. But when they called a health advocate at HCSC who was trained in LGBTQ+ health issues, that advocate was able to guide the member to medical providers who could help.
That member shared their story at a national LGBTQ+ forum, saying they wouldn't be here today without that interaction.
The Pride Alliance BRG is planning to build on that success during LGBTQ+ Pride Month with a panel discussion about how to better address the needs of transgender health plan members and guide them to LGBTQ+ competent providers.
"Just by sitting with another group of people and putting a presentation together, we impacted the life of someone outside the organization," Walser says. "Since a key part of our business strategy is to expand access to care for our members, this is why we get up in the morning. This is why we do what we do."