Canakkale Edwards has spent her career positioning others for success, before and after joining Health Care Service Corporation (HCSC).
"I've always believed in making sure people have the information they need to make the best decisions, professionally or otherwise," says Edwards, a senior associate business partner in HCSC's human resources division.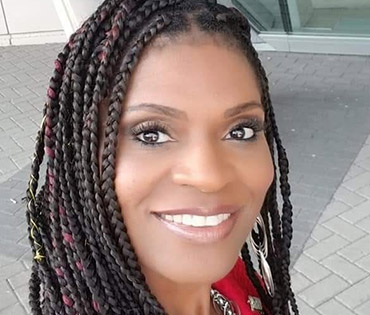 She's also the Illinois state chair of African Americans in Motion (AAIM), a business resource group (BRG) that seeks to amplify Black voices and perspectives at HCSC and foster professional growth among its members.
Through her work in human resources, Edwards saw an opportunity to establish a bridge program for individual contributors looking to transition to leadership roles. This inspired her to champion a program within AAIM focused on career development.
"Just because a person joins an organization in an entry-level job does not mean they have entry-level talent," Edwards says. "It's important for our company to recognize our employees' potential and learn what they can accomplish with the right training and development."
Over the course of six weeks, employees recruited for the program attended hour-long sessions on a variety of topics, including branding, accountability, and resume building. Participation was initially limited to AAIM members, but growing interest led Edwards to expand it to other BRGs.
"Business leaders kept asking me to come to their BRG meetings to present on topics around career development," Edwards says. "When I saw that need, I met with HCSC's Center for Diversity, Equity and Inclusion (CDEI) team to discuss creating one holistic program for all BRGs."
Edwards collaborated with other BRG leaders to launch the expanded program in 2018, adding four more weeks of training and assignments for members to complete between sessions. Participants were also given opportunities to network with company leaders and conduct practice interviews with executives in other departments. Although the program has gone virtual since the onset of the COVID-19 pandemic, Edwards has worked with the Oklahoma and Texas AAIM chapters to ensure it remains a valuable resource for members.
"Ultimately our desired outcome was to help BRG members set clear professional goals and provide them with the necessary tools to achieve those goals," says Edwards. "We've also had some success stories where participants were promoted internally."
Over the past year, AAIM has focused on building relationships with historically Black colleges and universities (HBCUs) in the states where HCSC operates. The organization is working to set up recruitment programs at some of these schools, aiming to attract diverse talent and strengthen the company's presence in local communities.
"We felt it was important to give our company exposure to these schools and let them know that we are an employer of choice," Edwards says. "We want to make sure that we're meeting African American communities where they are and serving our future members and employees — not only our current members and employees."
Edwards says AAIM's focus on career development illustrates its commitment to HCSC employees and health plan members.
"Our BRG serves as a voice, collaborator, liaison, and at times advocate, for both of these populations to ensure their needs are met by HCSC," she says. "Whether it's impacting the bottom line through exposure to new products and services or forging connections with HBCUs to source talent, AAIM strives to show the African American population what HCSC has to offer, and likewise, what the African American population has to offer HCSC."